Now I am new to this and I don't know the original at all. I have no idea the plot or anything when I started this. I have finally finished it which I am so happy I did I didn't think I would ever really get into a final fantasy game in my life. I am in love with this game, it's stunning and breathtaking all at the same time.
I always thought that I wouldn't be able to understand JRPG's that they are too complicated for me to understand. Lots of reading involved etc but this game has changed my opinion. I have seen FF7 the original and the graphics have greatly improved don't look like Lego blocks moving. The scenery is just something so dreamy and very much like the advent children film but they have out done themselves and upgraded from there.
Gameplay is great for me love the kinda hack and slash, mixed in the turn based reminds if something like dragon age where you are switching between characters or giving out commands when pausing a screen, but it doesn't stop the flow of combat, and I haven't played that way on a console before always PC for those types of games, but I loved it. I would say this is highly action-focused style of modern-era Final Fantasy games. It's mixes everything it's great for experimenting with your weapons and your Materia ( I know what that is now) etc it's great every battle is different. It doesn't feel repetitive at all, plus I just like hearing the music that accompanies the battles as well.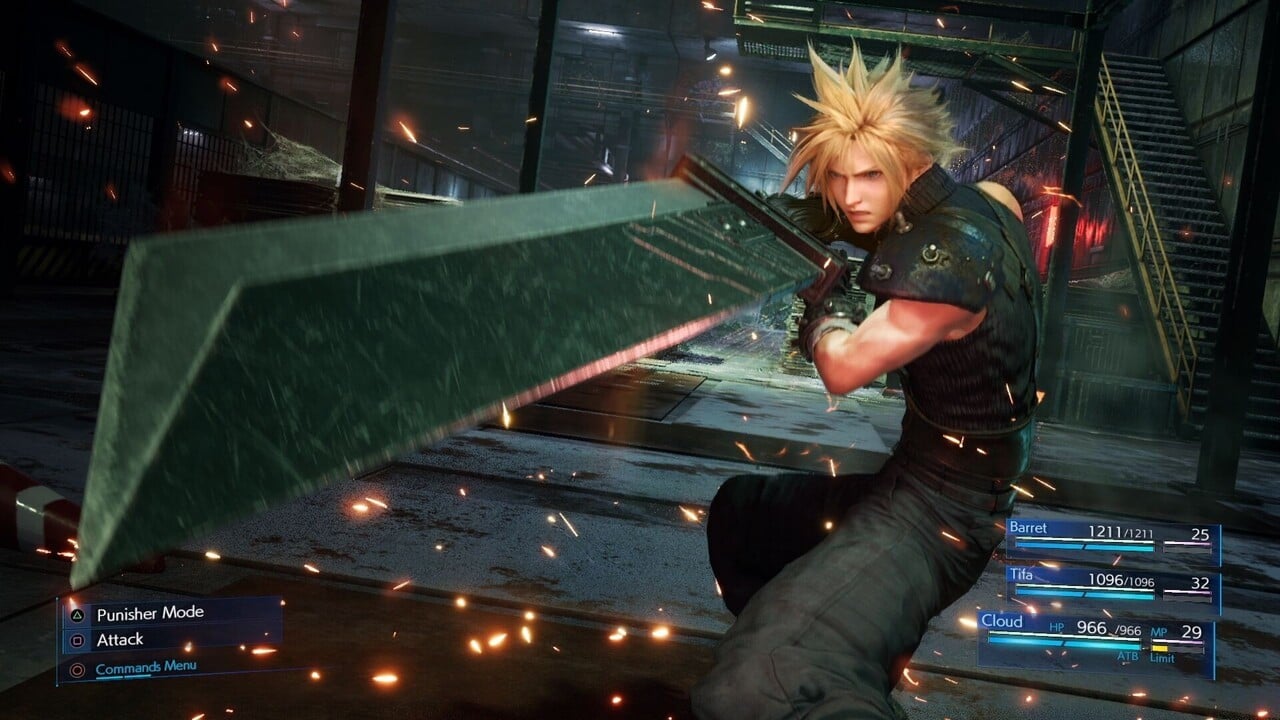 The game's eco-warrior theme, is so much more relatable now than it has ever been really. The evil corporation known as Shinra is bleeding the planet dry of its lifeblood, called "mako", and the rather naive Avalanche embarks on a campaign, to stop them from taking life from the planet, by blowing up the Mako reactors, and stop them in their tracks. But you know everything doesn't go according to plan with main plot twist and turns.
The story, it's great it's had been gripped from when I started, again like I said before I have no idea what's happens for the rest of the game as this is only part so I am tempted to okay the original just for the story and characters as I can't wait an longer. I love how they have got avalanche crew characters have their own personalities and stories in the game, from what I hear they were just there as people never any depth, but this time they are. Jessie I fell in love with her straight away tomboy style with flirting and it works great against clouds straight to the pointness( i know this isn't a real word but you will get what I mean). The story telling something I haven't quiet experienced in a game before, its ambitious and confident with a fresh new re telling , but with more depth and meaning.
Something I never really do in games like RPG's are side quests or I do a few and give up, I don't know why its just I like the main story and I don't want the flow to stop, so I was worried that would be part of the game I wouldn't enjoy, I was so wrong, I loved doing all the side quests. I had so much fun and you learn more about the people, and the places they live etc. You learn about their roles in the story and get to see their side of things as well, plus its great character development, it has what as really taken me in the characters, they are all do deep, fun and have all got something to offer in terms of game play and skills, but they have their part in the story to play too. It's great as I wanted to do the side quests, so I wouldn't full complete the main story to fast I wanted to take my time, I wanted to embrace everything about this game, especially from someone who had never really gotten to grips with it before.
This is a classic game, which I didn't play before until this game is the first part to it, I can't wait for the next instalment of it, this game has actually got me hooked and very tempted to actually play orinigal, so I know how it all ends. It is a brilliant game, I don't really see a flaw in it really, its easy to get to grips with, and it get you to explore and experiment in combat so you getting the best out of your characters, what is not to love. Also I have finally found out what a chocobo is and they are adorable.
Highly recommend this game and to newbies too, well what do you guys think let us know in the comments or tweet us.