It's a typical sequel, but improves on almost everything that the first failed at which isn't a lot, and improved on a handful of things, variety of gameplay, graphics, and level design. Such as, the little land of the Gobbos is no longer pint-sized. It's huge. Croc 2 is a massive game with lots of worlds to explore and lots of little Gobbos to safe.
However I feel Croc 2 is more difficult than me and my other half expected.
Croc is a really cute game that has a definite personality of its own.In this outing he has defiantly improved. Croc has a few new special moves as well as a phenomenally large inventory of abilities. Croc can walk, run and jump, he can even swim this time and climb walls, and he's able to whack short little baddies with his tail. Just like Mario, he performs a butt-smashing special jump. He is even capable of the standard amount of platform style moves. Croc has learned a few special things this time around, each adding to the overall improvement of the gameplay. Croc can push objects, such as boxes or ice cubes, or pick up and throw them. The point is Croc is now quite versatile. Versatility is good. As at one point you are in speed boat race as well which again adds more than the first game did.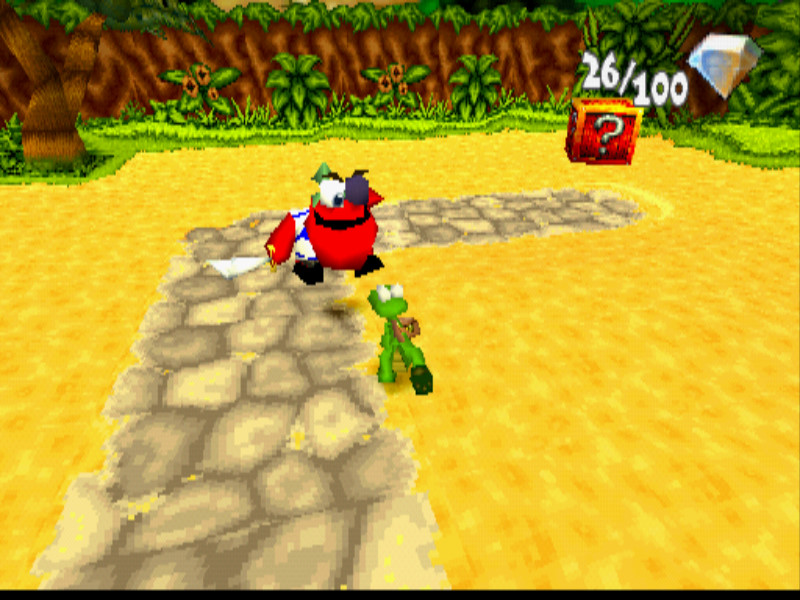 Croc's game is far larger, giving the player many more hours of gameplay and exploration time. Argonaut withdrew the linear set of levels from the first game and added a ton of mixed, selectable levels players can choose from whenever they want. Some of the new courses are totally fun, too, such as the hang gliding section, and the snow ball tasks.
The greatest flaw in this game I feel is control. Especially camera controls which you cant always see where you are going and having to work it out to get back on track. This third-person perspective, the camera slings far too close to Croc to get a good perspective on jumps, incoming areas and, most importantly, the immediately areas around Croc himself. 
In addition to the annoying control, it's difficult for even a seasoned gamer to successfully control Croc through the first set of levels without having to start over less than three or four times. Croc 2 is way more frustrating in its learning curve than I think it should be.
Croc 2 overall, I feel is a mixed bag as yes the camera and control can be frustrting, but overall I still enjoyed many aspects of the game. Even the cute little soundtrack of pop and jungle beats doesn't feel on loop like many other games soundtracks do. Again, the voices are all great, too. The garbled sounds of Gobbos and Croc discussing things of the utmost importance in gibberish-speak is all too hilarious. I love it.
Overall, I love it and is a great sequel to the first and I didn't even know they made a second one so discovering all this for the first time has been a great experience for me.