Well, this game brings back all sorts of childhood memories for me as the Sega Mega Drive was the first ever console I had and this was one of the games I played so many times and I didn't get very far, but I kept trying and trying.
Castle of Illusion; an enchanting platformer that features Disney's Mickey Mouse. It was released back in 1990, it received unanimous praise from critics,  which was down to the catchy music, wonderful art style, and animation, and – most importantly, the gameplay.
The storyline is as follows, an evil witch named Mizrabel ( what a name !) kidnaps Minnie Mouse and whisks her away, whilst they are out having a lovely stroll. A save the girl storyline, similar to Mario and Princess Peach. But the game definitely offers more than just a save the girl storyline.
The main aim of the game is to collect 7 gems hidden within the castle. Each door inside the castle leads to different magical areas, such a woodland area, enchanted Toyland and a crazy library and much more to reach his beloved Minnie. At the end of each level there is a boss to greet you, to keep you on your toes.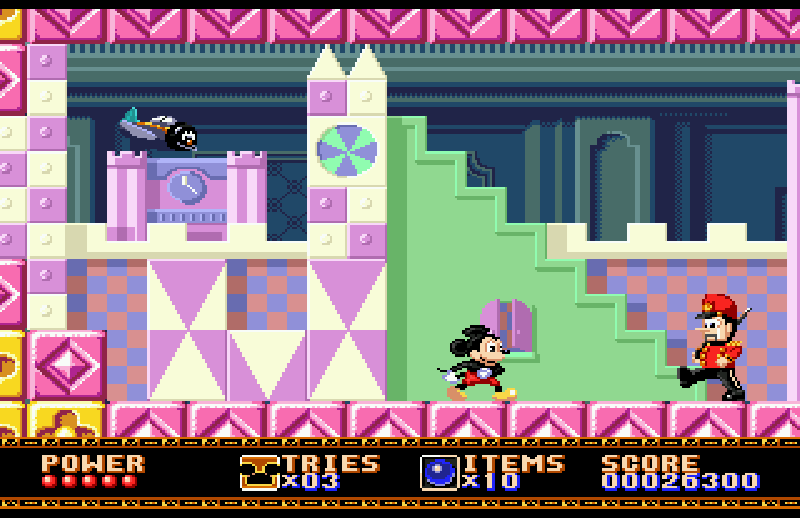 The platforming in this game is spot on, it has very responsive controls similar to what you would come to expect in an 8-bit classic, although at a slightly slower. What you have here,  is definitely something that creates a challenge for players, but not quite with the same level of required precision.
One thing worth noting here is the "bum-bash" ( whatever it's called). Those of you who play a lot of Mario games, it may take a while to adjust to a method of pressing jump twice to kill an enemy. Pressing it once will only once result in Mickey clumsily stumbling onto an enemy resulting in Mickey taking damage. So please remember to press it again when you're in the air! Then everything should be okay, and its something that helps Mickey bounce in certain areas of the game as well to get over holes and gaps in the floor.  Another way to take care of enemies is also collecting things in the levels to throw at you enemies, such as the woodland area you collect apples, that you throw at your target and don't have to bum bash, but these are limited and you need to collect more items as you will run out, it comes in handy taking on enemies from a range to avoid damage.
MY VERDICT
Overall, Castle of Illusion is an ideal classic adventure game with lots of charm and memorable characters and levels, whether you are a Disney fan or not. It has a  reasonable challenge factor and should entertain just about anyone who enjoys these types of games.
Once you've finished this game, there is a limited immediate replay value. But I guarantee over the years you will come back to it time and time again to re-live the experience as it is a real joy to play.
The graphics and music were excellent for the time and still hold up very well today. I would highly recommend this game and consider it an essential part of any retro gamer's Sega Genesis/Mega Drive collection.